All About America explores American culture, politics, trends, history, ideals and places of interest.
Despite any hardships they might face, immigrants in America are more optimistic than U.S.-born Americans, according to a new survey of 3,358 immigrant adults.
"They said, 'You know, I face challenges here in the U.S., but it's far better than where I came from. And I have this belief that things will be better for my children,'" says Shannon Schumacher, a senior survey analyst at KFF, a nonprofit organization focused on health policy, formerly known as the Kaiser Family Foundation. "Whether that's their education, their safety, their economic opportunities - on a number of measures, they think that they're better off and their children are better off."
The survey, a partnership between KFF and the Los Angeles Times newspaper, was conducted between April 10 and June 12, 2023. Respondents completed surveys by telephone, mail and online. The questions could be answered in any of the 10 most commonly spoken languages in the United States, including English, Spanish, Chinese, Korean, Vietnamese, Portuguese, Haitian-Creole, Arabic, French and Tagalog.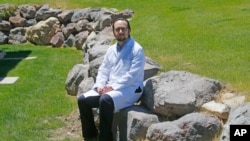 Edison Suasnavas, an immigrant from Ecuador, is a cancer and coronavirus researcher. Here he poses for a photograph near his home in Saratoga Springs, Utah, June 11, 2020.
The result is the most comprehensive survey of immigrants in the U.S. today, according to Schumacher.
"The survey can really help inform the public more about immigrants and really bring their voices to the forefront," she says. "As these debates swirl around them, we don't actually hear about immigrants often in their own voices."
Immigrants comprise 16% of adults in the U.S. They come from different countries and have varying immigration and socioeconomic statuses. Their belief in a brighter future comes despite hardships some immigrants can face at work and in the health care system.
Most of the immigrants in the survey have jobs, and about half say they've experienced discrimination in the workplace. Three in 10 say they've been paid less for doing the same job, or they've had fewer opportunities for promotions or raises, compared to their U.S.-born colleagues.
Karen Malave, left, an immigrant from Venezuela, and her daughters, at a Chicago Police station, May 1, 2023.
Health care can be another struggle. One in five immigrants skipped or postponed health care in the past year, often because of a lack of funds or health insurance. And once they see a medical professional, the experience is not always a positive one.
"About one in four immigrants say they've been treated unfairly in a health care setting, such as being talked down to or treated with disrespect," says Schumacher, "or not having a health care provider explain things in a way that they could understand. Or for those who have limited English proficiency, not having access to interpreters."
The survey found that Black and Hispanic immigrants face the most discrimination.
Researchers worked with advocacy groups within the different immigrant communities to reach potential participants. Trying to survey immigrants came with its own unique set of challenges. For example, the word "discrimination" doesn't always translate across different cultures and languages.
"People aren't sure what that means," Schumacher says. "And they also tend to use different words, or they say something that maybe we as researchers would say, 'Oh, that's discrimination,' but they call it bullying or someone just being mean."
To combat potential miscommunication, researchers asked direct questions to capture experiences the researchers define as discrimination, even if the participants don't call it that. For example, "Have you ever been not paid for all the hours you've worked?" "Have you been harassed or threatened or been told to go back to your country?"